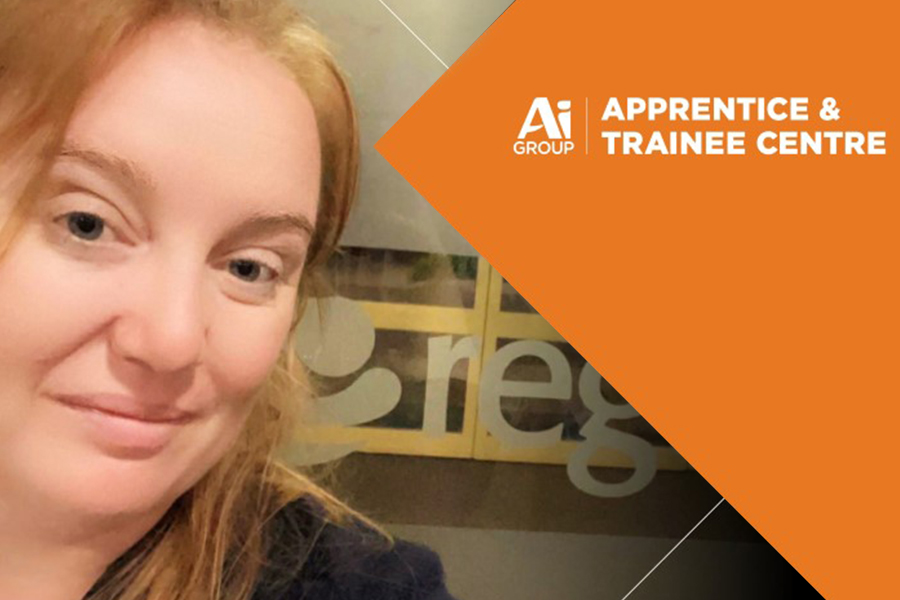 Aged care trainee doing mum proud
Sunday will be Samantha Cole's first Mother's Day without her mum.
While the thought fills her with sadness, the aged care trainee takes comfort in knowing how proud her mother would be that her sudden illness and death inspired Samantha to pursue a long-held dream to embark on a career in health.
"I've always had an interest in healthcare, but it was something I never thought I could do," mum-of-three Samantha said.
"However, between mum being diagnosed with cancer and passing last year, we had eight months — and I was her main carer throughout the process.
"My mum said: 'You're good at this, you've got to get into it'."
The experience gave Samantha the impetus she needed to bite the bullet and swap her retail job for an aged care traineeship with Ai Group Apprentice and Traineeship Centre (Ai Group ATC).
"Mum's palliative nurse was amazing," she says.
"I love the way she interacted with mum and us as a family to make us feel more comfortable with the process.
"So, my ultimate goal is to become a palliative care nurse."
Samantha applied for her traineeship through WomenCAN Australia, a charity dedicated to assisting women transition through training and employment to achieve financial independence.
She is completing her traineeship with Ai Group ATC and is hosted to Regis Aged Care Mildura.
"Palliative care runs hand-in-hand with aged care; they're closely entwined," Samantha said.
"That's why I wanted to get into aged care — to get more experience so when I do become a palliative nurse, I can provide better patient care."
Regis General Manager Amanda Anderson says Samantha is already making a huge impact.
"Samantha joined the Regis family about six months ago and from the start has shown enthusiasm and dedication towards our residents and staff," she said.
"Sam began her traineeship as an Assistant in Nursing/Patient Care Assistant and has more recently worked within our Lifestyle Team to broaden her skills and knowledge.
"She has voiced her enthusiasm for palliative care since her arrival and a possible progression to move over to Clinical, with interest in further study as an EN/RN which we will support in any way possible."
Studying for a Certificate III in Individual Support while working full-time at Regis, running a household and raising three children — Matthew, 15; Isabelle, 13 and Elizabeth, 8 — is a juggle, but worth it.
"It's challenging at times to meet everyone's needs, but the kids are a little older now and can help more around the home, so some of that pressure is taken off," Samantha said.
"The hardest part is the mum guilt because shiftwork means I don't see the kids as much as I used to.
"But, my husband, Ashleigh, is extremely supportive.
"He knows how much I want to do this and how much it means to me.
"He always makes sure I have time to complete my studies to further my career, which is great."
The kids, meanwhile, love hearing stories about Samantha's day and interacting with the residents when they get a chance to visit.
"My youngest is learning Italian at school so she always asks: 'Can I go see the Italian nonnas so I can practise?'" Samantha said. 
Kathryn also a hit with residents
Kathryn Bedson is another Ai Group ATC aged care trainee balancing full-time work, study and motherhood. The mum of two teenagers, who also came to the Ai Group ATC through WomenCAN, works at Bentleys Aged Care in Bendigo. Since starting her traineeship in August last year, Kathryn has been recognised for her calm and gentle nature and the way she builds rapport so easily with both residents and staff. She has been praised for being reliable, approachable and generous with her time to others. 
Support from Ai Group ATC has also been invaluable.
"They are definitely one of the better employers I've had," Samantha said.
"The team is always easy to contact and helpful. They have great advice when I have problems or questions.
"(Area Manager Bendigo) Frances Constable is amazing."
To other mums contemplating a career change, Samantha says: 'Just do it'.
"At the end of the day, everything else — running the household, kids and your partner — will all work out.
"Sometimes, we have to put ourselves first.
"If that means a career change or doing what you love to do, then just do it."
For Samantha, the best part of her job is seeing residents' faces light up when they see her.
"On Friday night, one of the residents said to me: 'I love it when you're on duty, Sam, because you make me feel like an actual person and not just a body that's been left behind," she said.
After completing her traineeship, Samantha will undertake a Diploma of Nursing and a specialisation in palliative care.
"My traineeship is just the first step and I've got mum to thank for giving me the nudge I needed to get started," Samantha said.
Happy Mother's Day, Samantha and Kathryn. We hope you are both spoilt on Sunday.
To find out about traineeships that could change your life, too, contact the Ai Group ATC or phone 1300 761 944.