What is an Apprenticeship or Traineeship?
Apprenticeships and Traineeships are a unique opportunity that allow individuals to simultaneously "LEARN and EARN." It's a program that enables you to get paid while you acquire the skills necessary for a specific trade under the guidance of a qualified and experienced tradesperson. Apprenticeships are structured, work-based training programs that offer a hands-on, practical approach to learning, complemented by studies at a Registered Training Organization (RTO) or TAFE. The goal is to become proficient in a trade while obtaining a nationally recognized qualification.
Here's how an apprenticeship typically works:
Training Agreement: When you embark on an apprenticeship, you sign a Training Agreement, which outlines the terms of your apprenticeship. The duration of an apprenticeship varies, typically spanning 3 to 4 years, depending on the specific trade.
Training Program: During your apprenticeship, you engage in a combination of on-the-job training and off-the-job training at an RTO (Registered Training Organisation) or TAFE institute. The structure can involve attending RTO / TAFE classes either one day a week or in concentrated blocks.
On-the-Job Experience: The final stages of your apprenticeship are generally spent primarily on the job, where you apply the skills and knowledge you've acquired during your training. Once you are deemed competent by both your training provider and your host employer, you will be deemed a competent tradesperson, and presented with your certificate.
There are numerous advantages to pursuing an apprenticeship or traineeship, including:
Real-Life Work Experience: You gain practical work experience in your chosen field, putting your learning into action.
Earn While You Learn: You receive a wage throughout your apprenticeship, ensuring financial stability.
Flexible Learning: Apprenticeships offer flexible learning options, accommodating structured on-the-job training, off-the-job education, or a combination of both.
Comprehensive Agreement: Your apprenticeship agreement covers your wage and your training entitlements, ensuring you receive the necessary support.
Nationally Recognised Qualification: Upon successful completion of your agreed training period, you earn a nationally recognized qualification that can open doors to higher qualifications, including degree programs.
Accessible Career Path: Apprenticeships can be pursued straight out of Year 10, making them an ideal choice for school leavers. They also provide a pathway for individuals looking to upskill or retrain later in their careers.
Apprenticeships typically don't require prior experience or formal academic qualifications, making them accessible to a wide range of individuals. However, some basic knowledge of subjects like Maths and English is often essential. To apply for apprenticeship positions, candidates may need to complete pre-employment assessments that cover these fundamental topics.
While apprenticeships have traditionally been associated with school leavers, there is an increasing trend where older individuals are taking up apprenticeships. Mature-age apprenticeships are becoming more common, reflecting the diverse range of people who can benefit from these programs. 
Better Job Security for those completing apprenticeships and traineeships
​For compelling evidence on the benefits of pursuing an apprenticeship, we invite you to explore this report released from Ai Group's Centre of Education and Training. In this comprehensive study, respondents were surveyed over a 10 year duration, revealing a significant finding: "Young people with apprenticeships/traineeships had the highest level of employment at age 25, followed by those with higher education qualifications." You can access the full report for more in-depth insights.
Among the young individuals surveyed, those who had successfully completed apprentice or trainee qualifications demonstrated the highest employment rate at 96% by the age of 25. Notably, young people with postgraduate degrees also enjoyed a commendable employment rate of 94%. Bachelor's degree holders followed closely behind, with 92% employed. Conversely, those with certificate-level qualifications experienced a lower employment rate, with only 80% being employed, and a higher share of 15% facing unemployment within this group.
Furthermore, the report highlights that individuals with no post-secondary qualifications fared slightly better in terms of employment; however, they had the highest proportion of young people reporting as "not in the labor force" at 9%. This data underscores the immense value of apprenticeships and the potential they hold for securing employment and future success.
If you want supporting evidence to the benefits of an apprenticeship, check out this report released by Ai Group's Centre Of Education and Training. According to a study of respondents in this survey, 'Young people with apprenticeships/traineeships had the highest level of employment at age 25, followed by those with higher education qualifications.'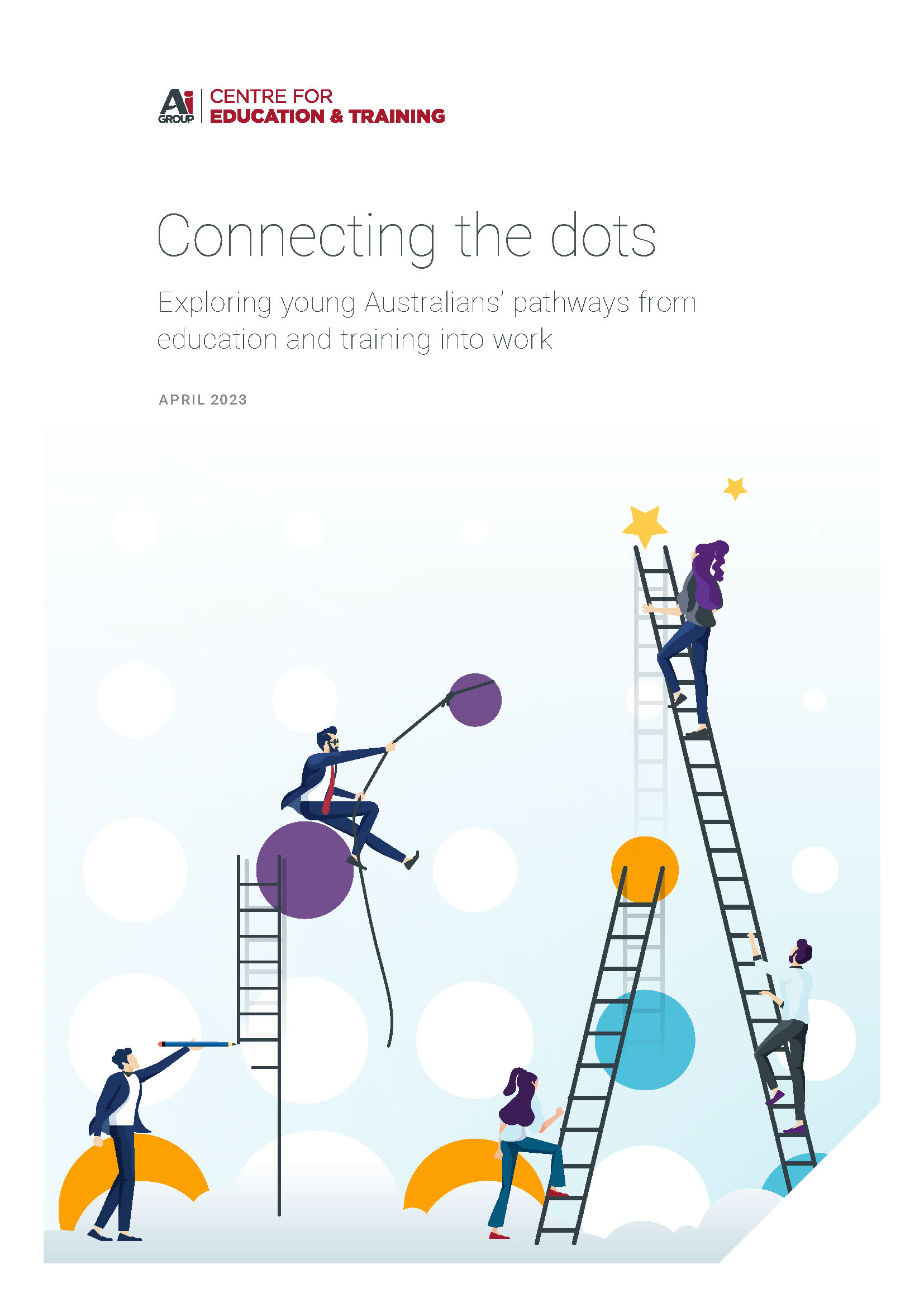 What pathways are students taking?
At 25 nearly half of the respondents (46%) had completed a bachelor's degree or postgraduate degree. 16% reported no post-secondary qualification.
In rough terms, around a half (46%) had a higher education pathway, around a third (38%) a vocational education and training (VET) pathway and a minority (16%) had no post-secondary education.