Apprenticeships and Traineeships
Did you know that an apprenticeship or traineeship can lead to owning your own business, becoming an entrepreneur or travelling the world?
Both apprenticeships and traineeships are pathways which help you 'Earn While You Learn' your way to a worthwhile, highly paid and sought after career.
Ai Group Apprentice and Trainee Centre has already trained and placed over 15,000 people into successful careers over its 50 plus year history. We have skilled and experienced staff who are apt at finding you the right apprenticeship/traineeship and they will assist you to navigate your way to successful completion of your qualification. Ai Group Apprentice and Trainee Centre can provide placements with many of Australia's leading companies in a range of industries and business sectors, providing you with high quality and practical experience to take forward into your career.
At Ai Group Apprentice and Trainee Centre we believe the success of our business is based on our expertise in identifying capable, motivated and 'work ready' people and then providing them with the support to become accomplished in their chosen career. Since we began we have helped 1,000's of apprentices and trainees who have gone on to achieve their goals of self-employment or greater career responsibility.
The way to become an apprentice/trainee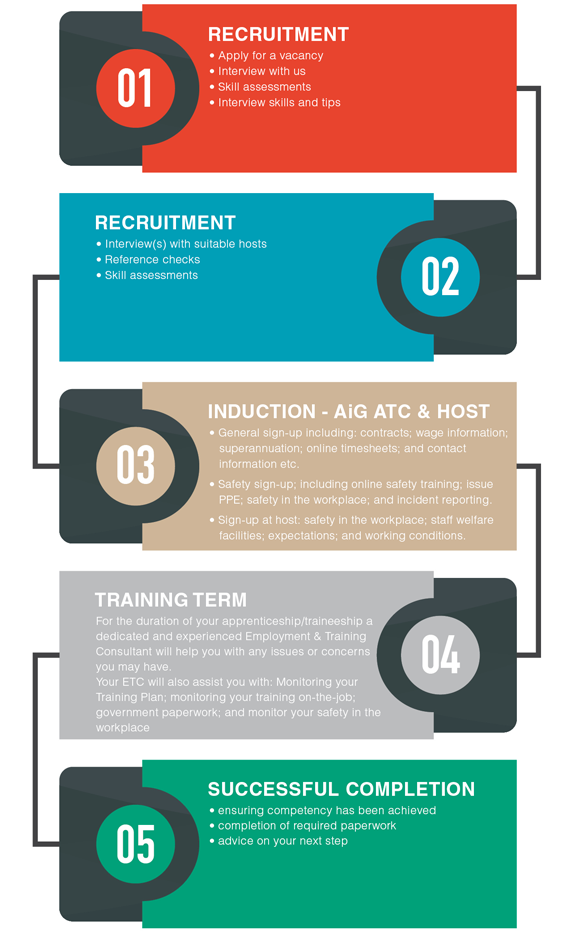 Join us and become part of the successful Australia-wide system of more than 30,000 apprentices and trainees working in varied trades and employment.
Do you have what it takes?
Are you the next Australian Apprentice/Trainee of the Year?
Look for a job now or contact us for more information on how we can help you kick start your successful career.
Our website is regularly updated with our current apprenticeship and traineeship positions throughout Australia. Check and see if there is one available near where you live.