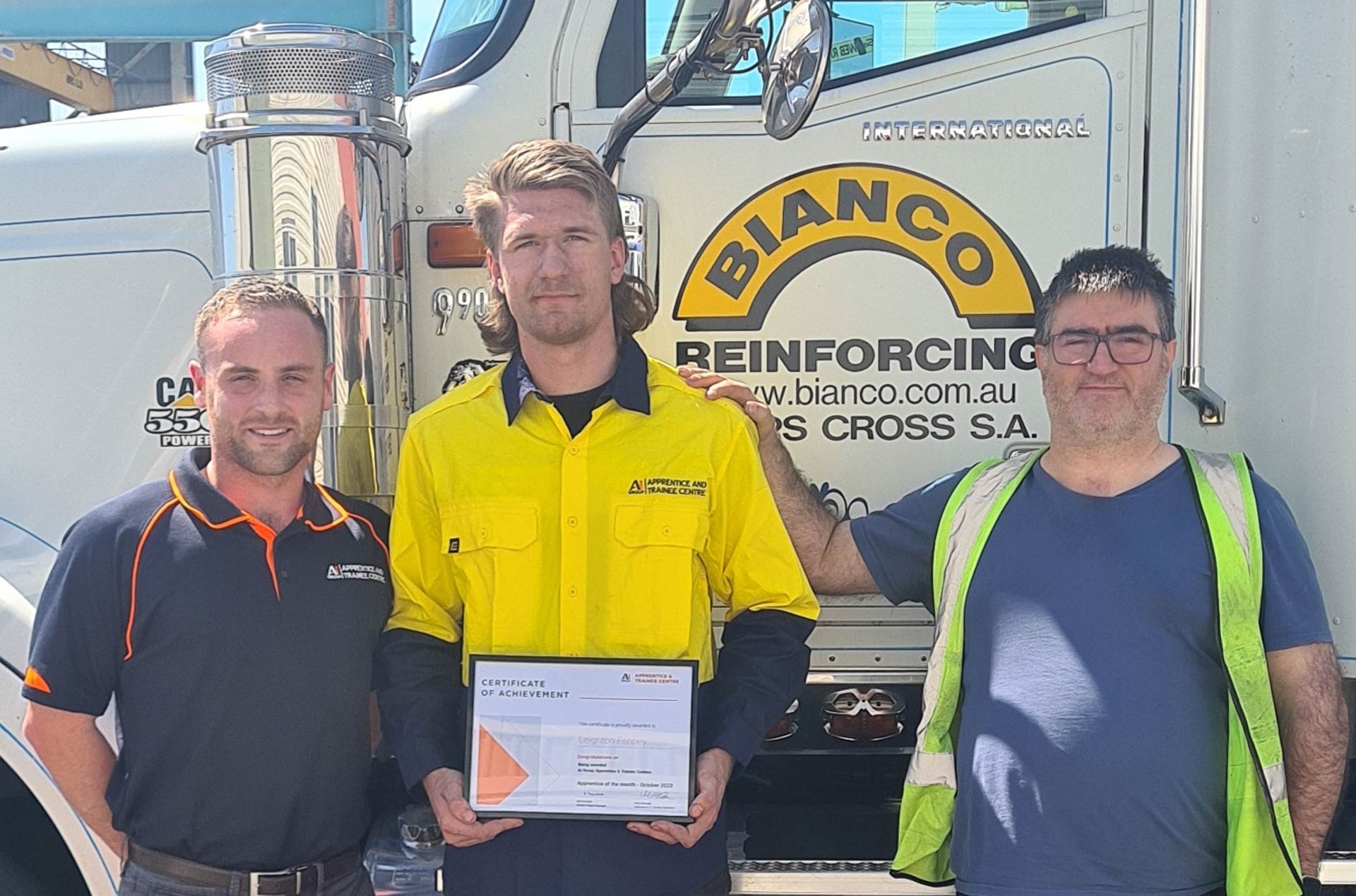 Apprentice of the Month: October 2023
Our Apprentice of the Month for October is Leighton Fenney!
Leighton joined the Ai Group Apprentice and Trainee Centre (Ai Group ATC) from Adelaide's St Patrick's Technical College, where he was incorporating automotive studies into his final years of schooling. He ended up deciding he wanted to follow in his father's footsteps and become a maintenance fitter and has since discovered this role allows him to combine his love for welding and fixing mechanical components.
Leighton's consistent progression during his two and half years at Bianco Reinforcing is commendable. A high achiever, he is ahead in his studies and performs tasks in the workplace above and beyond what is expected of a third-year apprentice.
He is punctual, communicates effectively with his superiors and constantly seeks to improve his skills through an impressive passion for learning.
Leighton has established himself as a core member of the maintenance team and has embraced the opportunity to mentor Bianco's junior mechanical engineers. He is always willing to share his knowledge and welding skills.
Leighton has also been a representative at Bianco's safety discussions and 'toolbox talks' where he actively contributes to ideas and actions for safer practices within the worksite.
Leighton also deserves recognition for stepping up to take on extra tasks and responsibilities when a supervisor was on leave for a length of time. His colleagues were impressed with his initiative and effort to ensure the work was done.
Leighton's Employment and Training Consultant, Ai Group ATC's Harry McCabe, pictured (left) with Leighton (centre) and Jon Monterola (right), said: "With Leighton's attitude and application to his apprenticeship, he is going to be a remarkable tradesperson."
Well done, Leighton!
Congratulations Leighton on being recognised as our October Apprentice of the Month!
Our Host
Our host, Bianco Reinforcing, is a South Australian manufacturer of steel reinforcing for the building, civil and construction industries.
Bianco provides a wonderful environment for people to learn, be creative in their trades and work to provide quality and high-standard products for the construction Industry.
We thank Bianco for its partnership and look forward to continuing to work together to support apprentices.