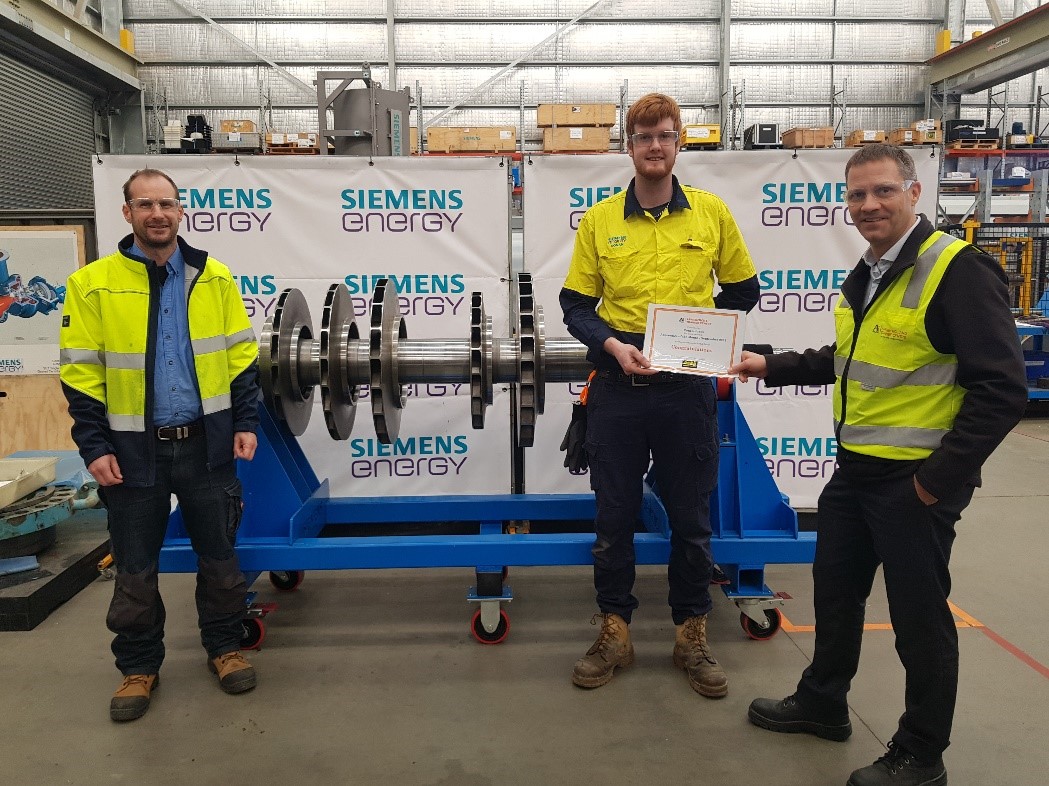 Apprentice of the Month: September 2021
Ronan Jones
Ai Group and Apprentice and Trainee Centre are pleased to announce Ronan Jones as the Apprentice of the Month for September.
Ronan completed his Certificate II during school at Cardijn College in Aldinga SA and knew exactly what he wanted to do post school. Ronan successfully gained an apprenticeship with Siemens Energy back on June 24, 2019 as an Engineering Mechanical Apprentice and has not looked back since, is very keen and eager,and loves his work. Ronan carries out maintenance work on rotating equipment for the energy, oil and gas industries like gas turbines, steam turbines, compressors, and pumps.
Ronan was recently praised and recognised for his suggestion and implementation of an upgraded chemical tagging system at Siemens Energy.The new and improved tagging system was colour coded depending on the chemical type and details fully documented in a register. This system was later adapted for use of all chemicals on site.
Ronan has become a valuable team member and has a great attitude towards work and TAFE.We have every confidence that he will become an excellent tradesperson when he completes his apprenticeship next year. From all of us at Ai Group Apprentice and Trainee Centre, well done Ronan.
Keep up the great work!
Our host
Siemens Energy is a world class facility in the Tonsley Innovation District in Adelaide who specialise in maintenance work on rotating equipment for the energy, oil and gas industries.
They cover a broad range of the Engineering Mechanical stream around machining and fitting and provide a great learning environment for young apprentices.
Ronan has just turned 3rd year and Siemens Energy have just requested for another apprentice to start before the end of the year.
---
Ai Group Apprentice and Trainee Centre would like to thank and acknowledge the ongoing support of RSEA SAFETY.