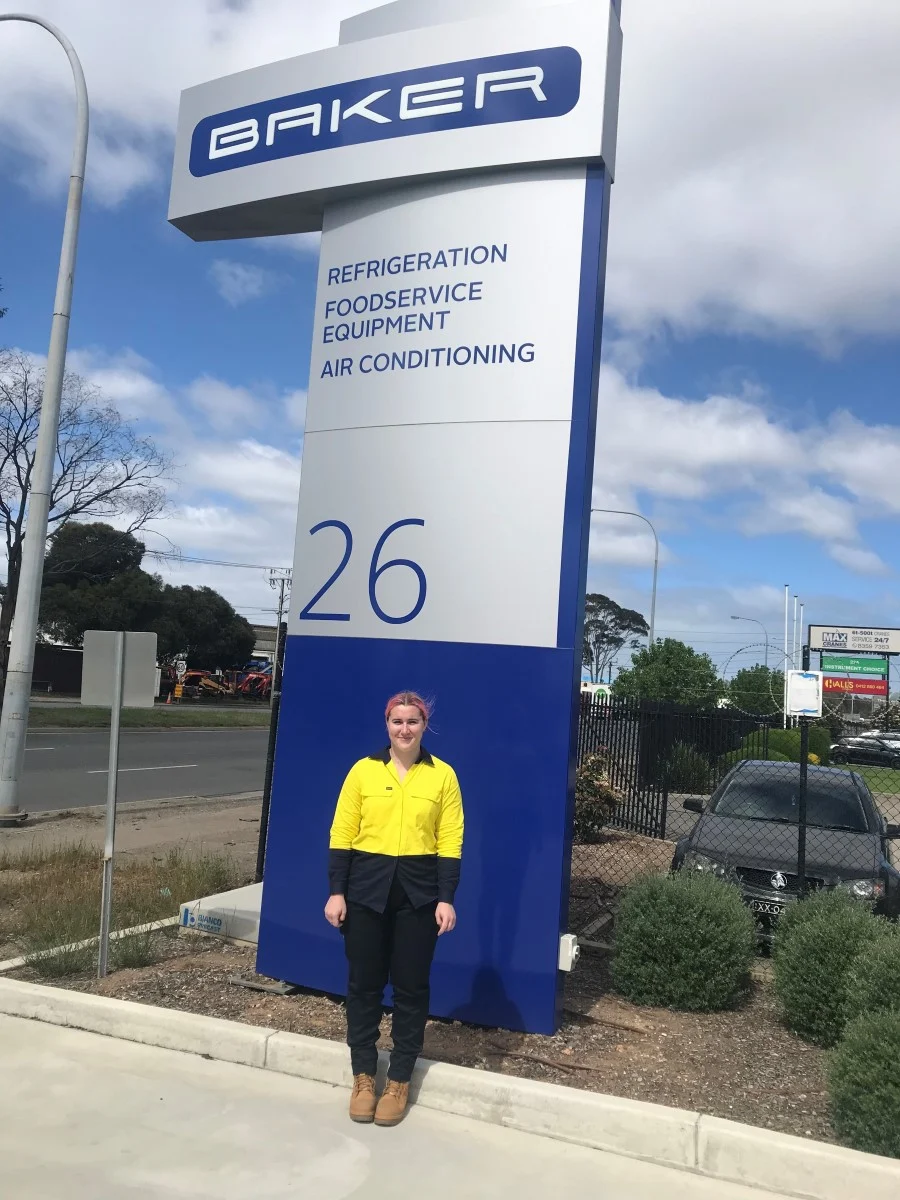 Apprentice proud to be a trailblazer
Amara Fowke has made history by landing a much-wanted fabrication apprenticeship, thanks to the unwavering support of Ai Group's Apprentice & Trainee Centre (ATC).
The Adelaide woman, pictured, has become the first female apprentice to have joined commercial refrigeration business AJ Baker & Sons, an achievement which literally moves her to tears.
"I've got a standard to set and show other girls that they can do it," she said.
"It's the best thing ever. I'm ecstatic. Speechless. I'm going to cry."
It's been a long road for the 24-year-old, who has found herself competing for apprenticeships with school leavers and people with qualifications that she is yet to gain.
"No one wants to take on an adult apprentice," she said.
"They prefer someone straight out of school – you're young, you're fit. Many don't want to take on adult apprentices without a certificate behind them or some sort of experience."
Ms Fowke, who started her apprenticeship today, said she was grateful to have had ATC Recruitment Consultant Ashleigh Goldsmith in her corner.
"Ashleigh told me: 'I'm really going to help you'," Ms Fowke said.
"She said: 'You're telling me you love it, you're really passionate about doing it. I'll talk you up to everyone I can.'
"It was really helpful to have someone working behind the scenes that could talk straight to the companies. It was a massive positive.
"The interview with AJ Baker & Sons was my best yet."
Securing the four-year apprenticeship means Ms Fowke is now able to commence a Certificate III in Engineering (Fabrication).
"I've loved welding ever since school," she said.
"Dad got me a welder when I was in high school because I love working with my hands. I've already made a roof rack for my car. I do like to get my hands dirty and I'm not afraid to get in with the boys.
"There are multiple job opportunities within the welding industry – you've got submarines, boats, buildings, sheet metal and commercial kitchen benches. On the artistic side, you can do sculptures."
Although Ms Fowke will be working at AJ Baker & Sons, she will be employed by Ai Group for the duration of her apprenticeship.
AJ Baker & Sons South Australia State Manager John McBurnie said gender was not an issue when choosing Ms Fowke for the apprenticeship.
"She had the drive to convince me," Mr McBurnie said.
"For someone to go out and buy a welder, they must be pretty keen."