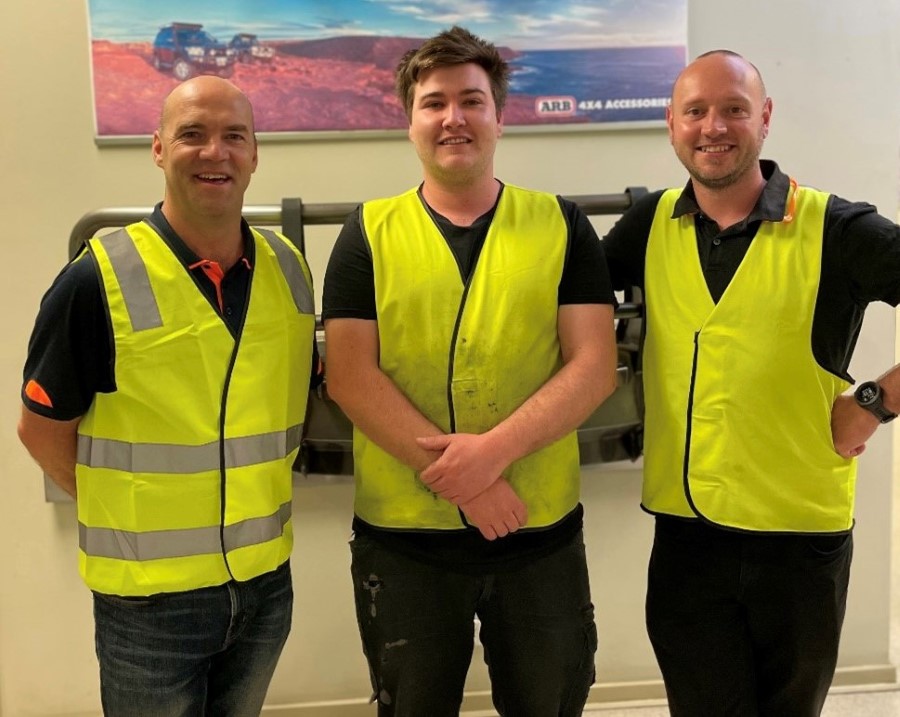 Apprenticeship has 'changed my life'
Completing an apprenticeship is the best thing Justin Backhouse has ever done.
It gave him the skills and confidence to succeed in a leadership role, enabled him to earn enough to go halves in a house with his mum at 18 and has inspired him to further his learning at university.
Justin, who left school in Year 11 to begin an apprenticeship in fitting and turning, now runs the tool room at 4×4 accessories manufacturer, ARB Corporation, in the Melbourne suburb of Kilsyth.
The fulfilling leadership role involves organising and prioritising jobs, ordering materials and managing apprentices.
"I didn't start at ARB expecting such a role, but I've found my niche," Justin, pictured (centre) with Ai Group ATC's Craig Hilton and ARB's Daniel Thoma.
"It was like: 'I'm not too bad at this', and that was seen by my superiors.
"It's been really good. The work is rewarding and the team at ARB are a great bunch of people. I'm happy with where I'm at."
Justin, who was hosted to ANCA CNC Machines when he completed his apprenticeship with the Ai Group Apprentice and Trainee Centre (Ai Group ATC), loved the experience.
"I was in a group of four apprentices when I started, learning alongside an apprentice master," he said.
"Learning and working with people with similar interests opened my eyes to possibilities beyond school, which wasn't my thing.
"You've got to find something you enjoy doing — I see that with my apprentices now.
"If they enjoy what they're doing, they put a lot of effort in and get a lot out of it."
Making things with his hands, problem-solving and earning money were all benefits of completing an apprenticeship for Justin.
"Coming out of school where you have no money and getting paid is excellent," he laughed.
"I bought my first house at 18 by going halves with mum. If I didn't start my apprenticeship when I did, I wouldn't have been in a position to do that."
Ai Group ATC's Craig Hilton, who was Justin's Employment and Training Consultant at the time, said Justin excelled from day one and was in his element in the workplace.
"Justin was a very popular apprentice and team member within the various departments he got to work in," Craig said.
"His leadership only required time for his age to catch up with him. It's no surprise to now see him leading a tool room and helping our new apprentices."
Now 27, Justin is keen to build on the foundations of his apprenticeship and continue his learning journey.
His goal is to gain an advanced diploma in engineering.
"My apprenticeship has been so good for me; why not go the next level?" he said.
"It is the start of your journey. You finish your apprenticeship and you're just starting to learn."
To anyone thinking about embarking on an apprenticeship, Justin advises: 'just do it'.
"You learn so much from the people you're surrounded by and the workplace environment," he said.
"An apprenticeship not only gives you technical skills but it can also deliver leadership and management skills so you can go on to a range of careers that are more than just 'on the tools'.
"How do you not recommend that to people?
"If you're sitting on the fence, just do it. Get in there and give it a go.
"It's the best thing I ever did. I strongly believe I wouldn't be anywhere near where I am in life today without doing my apprenticeship."
To learn how an apprenticeship with Ai Group ATC can change your life, please click here.