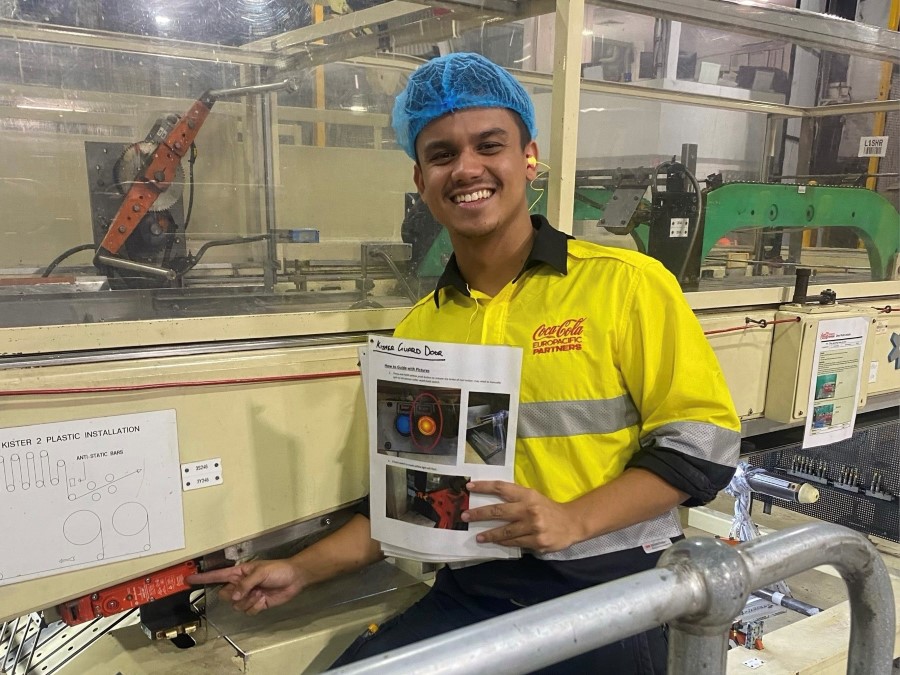 Chris impresses Coca-Cola with safety initiative
An Ai Group apprentice has been applauded for his work on a safety project at host company Coca-Cola Europacific Partners (CCEP) Australia.
Christopher Howell, in his third year of a four-year electrical trade apprenticeship, simultaneously received a weekly and monthly recognition award for his efforts at the Northmead, NSW, plant.
The aim of the project was to rectify a potential safety issue with a machine.
"I implemented a guard door switch, safety relay and limit switch that would stop operators from potentially opening up the door and getting their hand caught inside when carrying out a film change," Chris said.
"It was awesome to come up with a solution that works. It took me about a month from start to finish which included the designing, programming and installation of the project. With the support of my supervisor to overcome a few challenges, we got it to work."
Although guided by his supervisor, Chris can claim credit for the result.
"In terms of the programming, I took that on myself," he said.
"It was a big learning curve for me, but I got there in the end." 
The solution is so effective that it is being implemented in other CCEP factories around Australia
As an industrial electrician, Chris spends time working with the plant's machinery and programming PLCs that keep the machines running.
"It's different to being a residential or commercial sparkie," he said.
"At CCEP – or at any other manufacturing plant – we look after machines that are running 24/7. To keep the plant going, we must quickly identify and rectify fault problems that might occur on the line.
"I'm enjoying the industrial path and working in beverage manufacturing, in particular."
The 20-year-old showed aptitude during his early teens.
He loved working with his hands and by Year 9, realised he wouldn't want to spend his working life behind a desk.
"I knew I couldn't be in an office job, sitting all the time," Chris said.
"In Year 11 and 12, I ended up doing my Certificate II in electro-technology, which is like a pre-apprenticeship.
"I received a very high score and ended up coming first in that course among Sydney Catholic high school students and third in NSW.
"After completing Year 12, I searched for an apprenticeship. At first, I was in construction, but I soon realised I wanted to get into automation.
"The more technical side of things appealed."
Chris was thrilled to land an apprenticeship with the Ai Group Apprentice and Trainee Centre (Ai Group ATC) and be placed at CCEP Australia.
"It's been a very positive experience," he said.
"Ai Group ATC are very supportive. They come out to see me every six to eight weeks to see how I'm getting on and to check if I need new PPE or training.
"They're awesome. They are a great company and help me out massively."
Chris couldn't be happier that he followed his instinct to start an apprenticeship.
"I've matured a lot by working with adults," he said.
"I feel like I've come a long way and I've learned so much in this industry. I love it so much."
His enthusiasm has not gone unnoticed by friends who chose the uni path.
"They ask: 'What's it like working at CCEP and being in the workforce?' and I say: 'It's awesome'," Chris said.
"I didn't have a job in high school so going straight into an apprenticeship, where I'm learning and earning, is great.
"It helped me buy a car and it's given me the independence to look after myself."
It has also given Chris insight into future work opportunities and career progression.
"After I finish my trade, I want to do my Cert 4 in Industrial Electronics and Control," he said.
"After that, I'd like to be in the trade for five to ten years and then I'd like to go into management, possibly into a team leader role and then maybe the maintenance manager role.
"The maintenance manager looks after the electrical and mechanical teams on site. I love working in team environments so a role that includes organising, problem solving and leadership qualities would be a great challenge for me."
Chris is passionate about spruiking the benefits of an apprenticeship.
"I encourage all young people who are interested to get into a trade," he said.
"There is a perception that to be successful, school leavers must go to uni. However, that's not for everyone. Choosing to do an apprenticeship doesn't mean you're not smart.
"I'd love to see more people get into trades — especially the industrial electrical trade, which is not as well-known as some others.
"Manufacturing companies, like CCEP, are always looking for technicians to keep their plants running.
"If a machine goes down, it's a massive issue that needs to be fixed quickly.
"Industrial electricians perform a much-needed role."
To learn how an apprenticeship with Ai Group ATC can change your life, please click here.