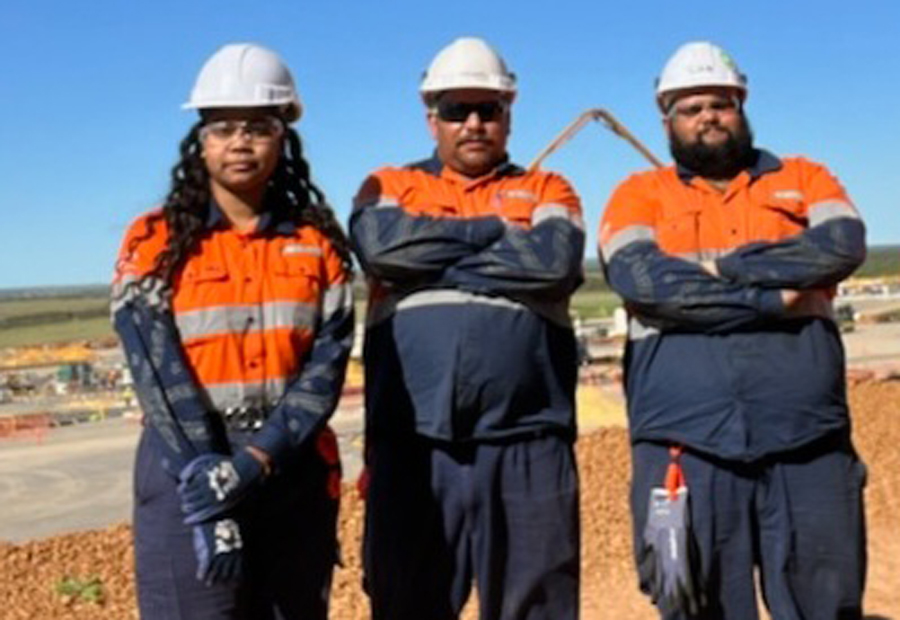 Clough partnership brings exciting career opportunities for First Nations trainees
The Ai Group Apprentice & Trainee Centre (Ai Group ATC) has partnered with Clough Group to set up traineeships for three First Nations workers in Geraldton, WA.
Ai Group ATC Employment & Training Consultants Luisa Terribile and James Pracilio have been working with host company Clough and local Indigenous employment services agencies to create a range of roles and find candidates who will be mentored as they commence exciting careers.
Iris Dickerson, who has started a Business/WHS Admin Traineeship Certificate III, is working onsite with occupational health and safety specialists at Clough.
Among a variety of duties, she enters and collates data provided by the senior safety team. Helping to maintain the company database is a responsibility Iris is thoroughly enjoying.
Corbin Comeagain has started an Engineering Mechanical Apprenticeship.
Working on a 20-and-8-day roster, Corbin's role involves examining detailed drawings and engineering specifications to determine the materials and equipment required for each job.
His supervisors say he is excelling in all aspects of his apprenticeship, so it's no wonder Corbin says he truly enjoys turning up to work every morning.
Liam Kelly, who has swapped shifts at Red Rooster for a Civil Construction Traineeship, also has a 20 and 8 roster.
Embracing his career change, Liam enjoys assisting colleagues such as boilermakers, riggers and scaffolders across the site.
Ai Group ATC is thrilled to be working with these enthusiastic trainees, the team at Clough and the Geraldton community to offer opportunities and genuine life-changing careers for local people.
Further opportunities will become available. In the meantime, we are keen to watch the development of Iris, Corbin and Liam, pictured left to right.
How to create quality employment outcomes for First Nations People