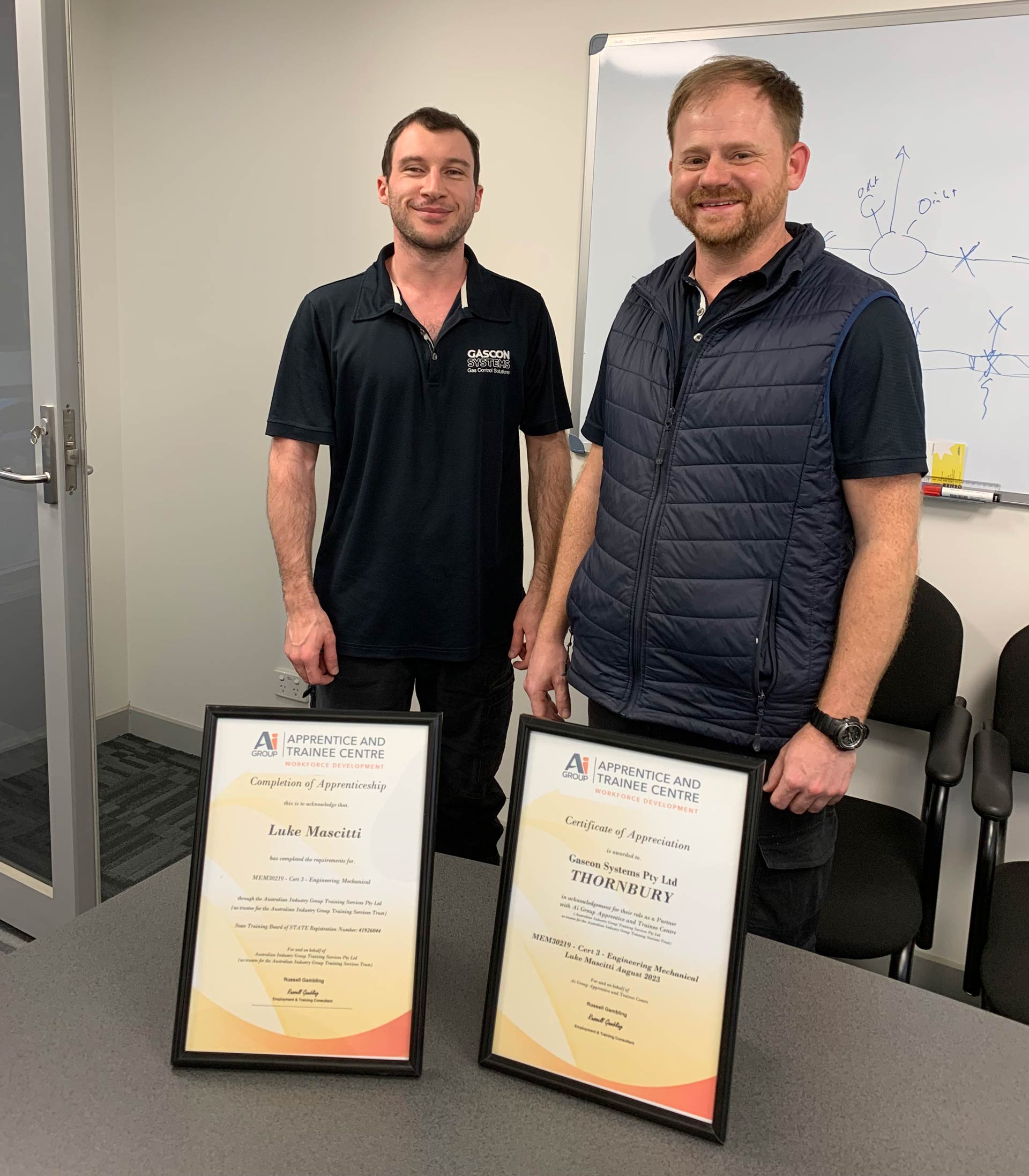 Qualified tradie follows in mentor's footsteps
We are thrilled to celebrate the achievement of Luke Mascitti, who has gained his Mechanical Engineering trade papers. This occasion is particularly special because Ben Anderson, Luke's supervisor at host company Gascon Systems, also completed his apprenticeship at Ai Group Apprentice and Trainee Centre (Ai Group ATC) and received his own trade papers back in 2008. The success of both men is a testament to the growth and mentorship opportunities Ai Group ATC provides.
Ben, pictured above right with Luke, said: "Having completed my own apprenticeship with Ai Group ATC several years ago, it's incredibly gratifying to witness Luke acquire the skills and knowledge that will shape his future." 
Ai Group ATC Southern Region Manager Russell Gambling has been eagerly anticipating attending the completion ceremony, held onsite at Gascon.
Luke's journey was not without its challenges. His apprenticeship was disrupted by Covid lockdowns and delays with his TAFE training, which, at one stage, led him to contemplate stepping away from his apprenticeship. However, with great mentoring from Russell and Ben and support at Gascon, coupled with his own determination, Luke is now a qualified tradesman with a bright future.
Congratulations to Luke and sincere thanks to Ben and Gascon Systems for their invaluable support throughout this journey. We look forward to seeing more aspiring apprentices guided by the outstanding team at Gascon, and who knows, perhaps one day Luke will have the opportunity to mentor an apprentice through the Ai Group ATC program!