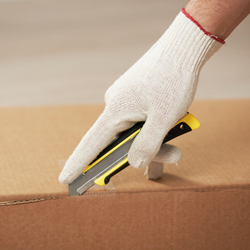 Safety Alert – Using Stanley or Utility Knives
WHS ALERT – Cuts/Lacerations – Stanley Knives
Safety Alert "ALL INJURIES CAN BE PREVENTED"
There's one hand tool that demands your respect over many others in the workplace, a tool that can cut you to the bone in an instant . . . the Stanley Knife.
Many Apprentices use Stanley Knives to cut strapping, puncture shrink-wrap or open packaging. But one wrong move and these retractable blades can do serious harm.
So far this year there has been a total of 14 cuts/lacerations some involving Stanley Knives.
Many accidents involving Stanley Knives occur for the following reasons:
Drawing the knife towards you instead of away from your body.
The knife not having an automatic retractable blade.
Working with a dull blade. (Dull blades require more pressure, increasing the potential for injury.)
Trying to cut more than the knife can handle.
Failing to wear personal protective equipment.
Neglecting to inspect the tool before use.
Some tips when you need to use a Stanley Knife:
Wear safety glasses to protect your eyes in case a blade breaks.
Always use a sharp blade. They are safer than a dull blade.
Wear cut resistant gloves and sleeves to protect your hands and arms.
Always work on a stable surface
Don't apply too much pressure on the blade.
Follow manufacturer's instructions when changing blades.
Don't use Stanley Knives to pry loose objects.
Remember only use a Stanley Knife if there is no other alternative!
Ai Group Apprentice & Trainee Centre Apprentices should not use a Stanley knife that does not have a retractable blade.
If you have any safety concerns or issues, please use the contacts below:
[su_row][su_column size="1/3″]
Alan Roydhouse
WHS National Manager
M: 0418 854 039
E: Alan.Roydhouse@aigroup.com.au
[/su_column] [su_column size="1/3″]
Ren Trinchera
Senior Safety Adviser
M: 0449 676 752
E: Ren.Trinchera@aigroup.com.au
[/su_column] [su_column size="1/3″]
Paul McPherson
Safety Adviser
M: 0415 121 606
E: Paul.McPherson@aigroup.com.au
[/su_column][/su_row]