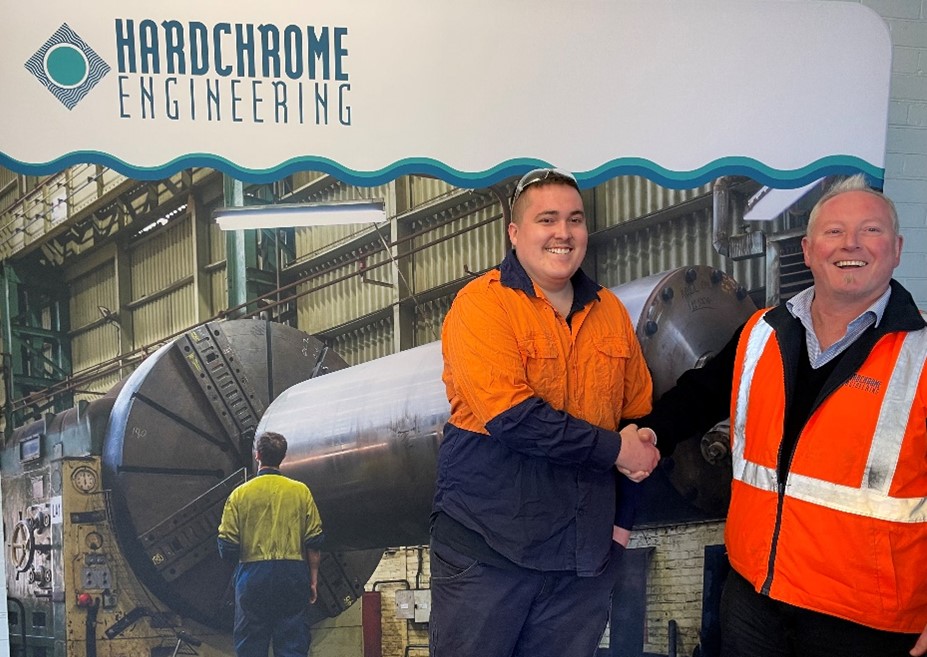 Safety responsibility inspires apprentice
Responsibility for leading weekly safety meetings has given an Ai Group apprentice a passion for workplace safety.
Anthony Thomas, a 2nd stage apprentice fitter machinist, said he was inspired by host company Hardchrome Engineering's positive culture in the workshop and the way they embraced "continuous improvement".
Melbourne-based Hardchrome encourages its apprentices to not only contribute to safety, but also lead and coordinate safety meetings.
"We have weekly safety meetings on a Friday that allow us to recap what we have learned during the week," Mr Thomas said.
"As apprentices, we get to be the leaders in communicating what we see. We have 'fresh eyes' on the way we do things, so being encouraged to suggest improvements is a great way for us to develop.
"Daily toolbox meetings provide opportunities for our teams to continually communicate, but it's when we have the weekly catch-ups that we go into more detail about ways we can improve safety."
Hardchrome Workshop Manager Justin Dickinson said input from apprentices was invaluable.
"Having apprentices lead and contribute to our safety initiatives sets a great tone for all workers, reminding us how important it is to go home safely each day," he said.
"We strongly value having apprentices come through our workplace and contribute new skills and knowledge to all that we do.
"They help us ensure we are always refreshing our attitudes to workplace safety. It's not just up to the people who have been here the longest."
Mr Thomas said Hardchrome's inclusive culture was encouraging.
"Being an integral part of the safety process gives apprentices a great sense of responsibility and belonging," he said.
"We seek professional advice and look for the best solutions. I hope we can encourage other workplaces to look at all options to improve safety and have apprentices contribute, as well.
"It's about everyone being able to work safely and go home to their families."
Hardchrome's commitment to workplace safety has opened Mr Thomas's eyes to other exciting career paths.
"Having trade skills and workplace safety experience can lead me to a range of career options, such as being a Work Health & Safety Officer or gaining a managerial position," he said.
"For now, however, I'm focused on gaining my trade qualification and continuing to contribute to a safe work culture at Hardchrome."
Ai Group Apprentice & Trainee Centre's Bec Tindal, who has regular meetings with Mr Thomas as his Training Consultant, said she was delighted to see him thriving at Hardchrome. The Ai Group ATC are encouraging all hosts, apprentices and trainees to adopt a positive mindset to safety, and will continue working with our hosts, apprentices and trainees on promoting a safe work culture. Well done Anthony!