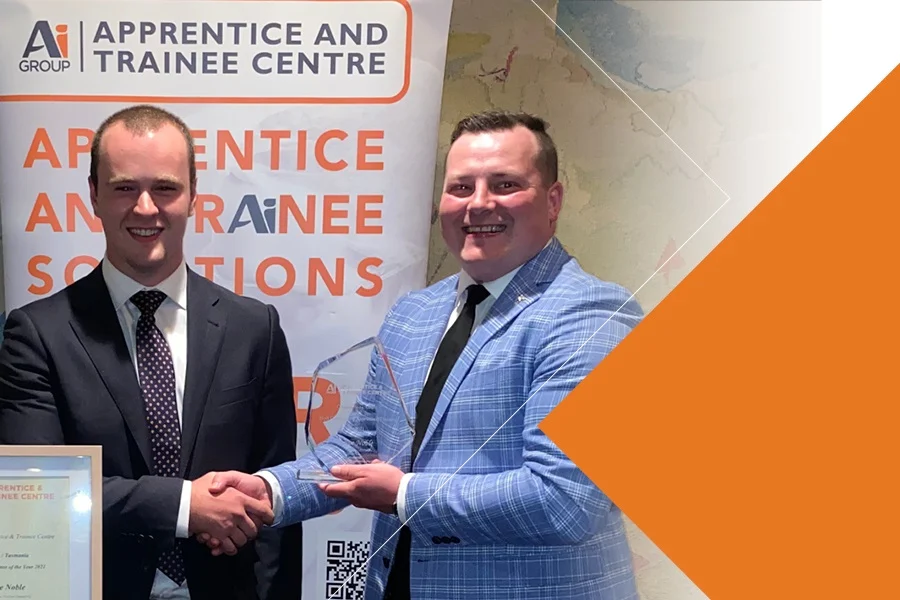 Star apprentice is best of the best
Fresh from his Apprentice of the Year win, Bryce Noble has scooped another major prize.
The fitter and turner has been named the winner of the 2021 Ai Group Apprentice & Trainee Centre (ATC) Chairman's Award — the highest honour bestowed on our apprentices each year.
Craig Hilton, Ai Group ATC Manager – Recruitment & Stakeholder Engagement, said it was a significant achievement.
"To be voted No.1 out of 480 apprentices is huge," Mr Hilton said.
"The managers of each of our three regional sectors (western, northern and southern) nominated their candidate and the Ai Group ATC management group selected the ultimate winner."
Bryce, the annual award's 13th winner, was recognised for his dedication and passion for engineering.
For his excellence, he received $1000, a framed certificate and a trophy.
"He just loves engineering," Mr Hilton said.
"He would turn up an hour early to work to ensure tasks were handed over correctly and he was ready for his shift.
"His passion for engineering shone through. He was easy to look after as an apprentice in the workplace because his supervisors loved the dedication he had to the trade. He loves what he does."
Bryce, who recently completed his Certificate III in Engineering – Mechanical, was hosted to Marand Precision Engineering in Melbourne.
He was Apprentice of the Year several times at TAFE and just last week, was named Apprentice of the Year at the Apprenticeship Employment Network Annual Awards in Melbourne.
Throughout his apprenticeship, Bryce, pictured above left with Ai Group Employment Training Consultant Russell Gambling, was a committed advocate for apprenticeships and Ai Group ATC.
He regularly attended events with Ai Group ATC leaders to promote apprenticeships and traineeships to school students.
Ai Group ATC Chairman's Award runner-up Luke Terkildsen was praised as an outstanding nominee set for a highly rewarding career.
"Luke seems to be one of those naturally skilled welders who, according to his supervisors and trade school teachers, already welds to international quality standards," Mr Hilton said.
Pictured below with his workmates at Radcoflex in Sydney, Luke is on his way to completing a Certificate III in Fabrication.