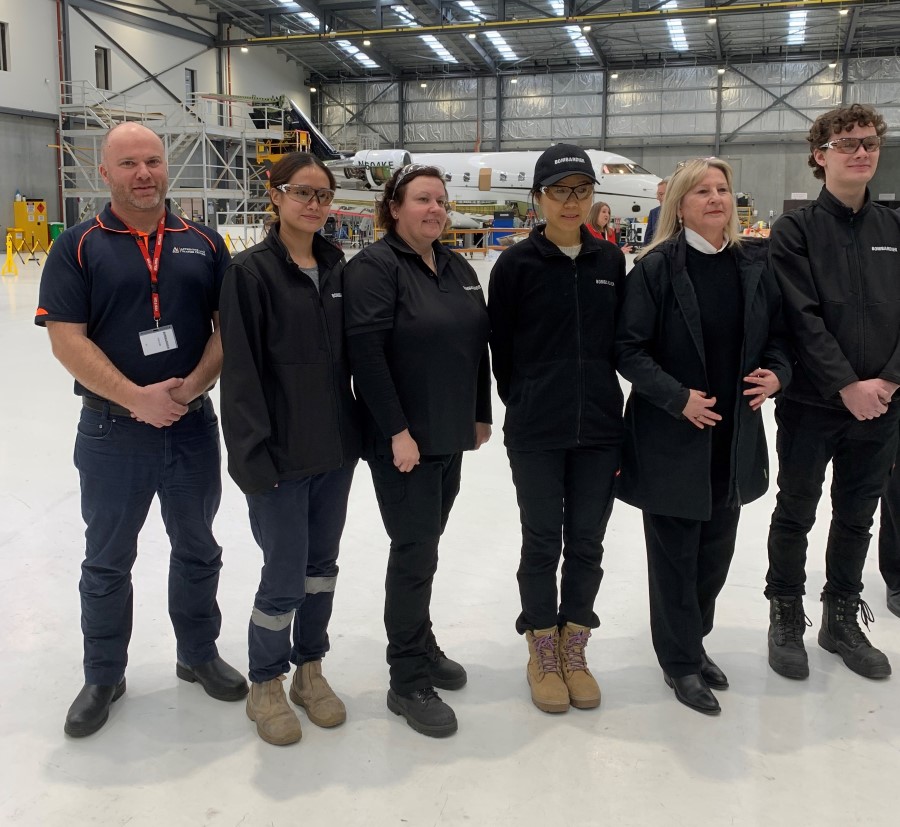 Training helps aviation careers soar
Ai Group (ATC) apprentices hosted to Bombardier had the honour of meeting Victoria's Minister for Training and Skills, Gayle Tierney MP, last month.  
Rachel Ng, Sally Mustang, Shi Ling and Daniel Thielhaber are all taking part in aviation maintenance training at Bombardier's Melbourne Service Centre.
Ai Group Apprentice & Trainee Centre (Ai Group ATC) rose to the challenge when recently tasked with recruiting four apprentices hoping to commence a career in Aerospace Avionics and Mechanics.
Rachel is now undertaking a Certificate IV in Aeroskills to help fulfill her dream of becoming a flight mechanic or engineer.
Daniel, Sally and Shi are also getting the specialised skills they need to make their passion for planes and avionics take flight.
The subsidised training, delivered by Aviation Australia, is funded through the Victoria Government's Skills First apprenticeship program, which is driving important change in this historically male dominated sector — women make up less than 10 per cent of the aviation workforce.
During her visit to Bombardier's Essendon Fields site, Ms Tierney said she was passionate about women embarking on such a rewarding career pathway.
Ai Group ATC Employment and Training Consultant Andrew Camilleri, pictured above with the apprentices and Ms Tierney, said: "We look forward to mentoring and coaching all four apprentices and working with Bombardier and Aviation Australia to ensure a highly successful apprenticeship program takes place."
Contact Ai Group ATC on 1300 761 944 to find out about aviation apprenticeship opportunities.