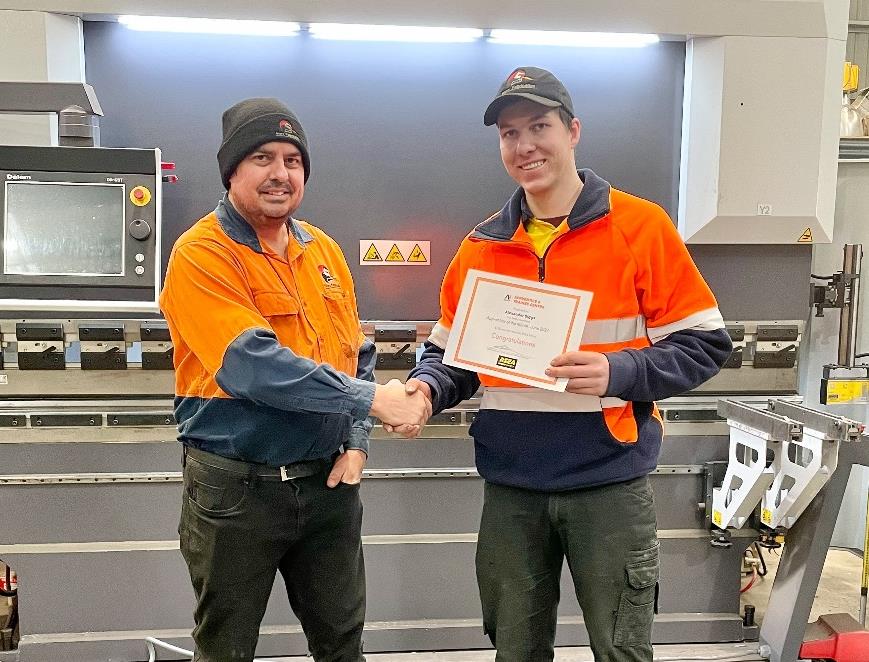 Apprentice of the Month: June 2022
Alexander Biggs
Our Apprentice of the Month for June is Alexander Biggs!
Alex started his Certificate III Engineering Fabrication Apprenticeship in April 2021 with our Host Organisation Worx Fabrication.
According to our Albury ATC area manager Chanon Ramos: "Alex has been exceptional right from the start, he produces great quality of work, follows directions, and has a passion for the trade. So much so, that he even fabricates outside of work with a keen interest in motorcycle restoration. Alex is a pleasure to speak with and has a great opportunity with Worx Fabrication to experience so many different aspects of his trade."
According to Jesse, Alex's supervisor, and Manager at Worx Fabrications; "Alex has been a self-starter from day one with a genuine interest in the metal / fabrication industry. He has been enthusiastic about learning and tackling a variety of projects in our workshop. His skill level and attitude have contributed to his success so far, and we can see him continuing this into the future and becoming a highly skilled tradesman. Alex is a valued member of the Worx Fabrication team, and we congratulate him on this well-deserved award."
By all accounts Alex is well on his way to a highly rewarding career that is not only going to contribute greatly to the local industry but will also see him having some really nice motorcycles to cruise around on!
Well done, Alex, and keep up the great worX!
Our Host