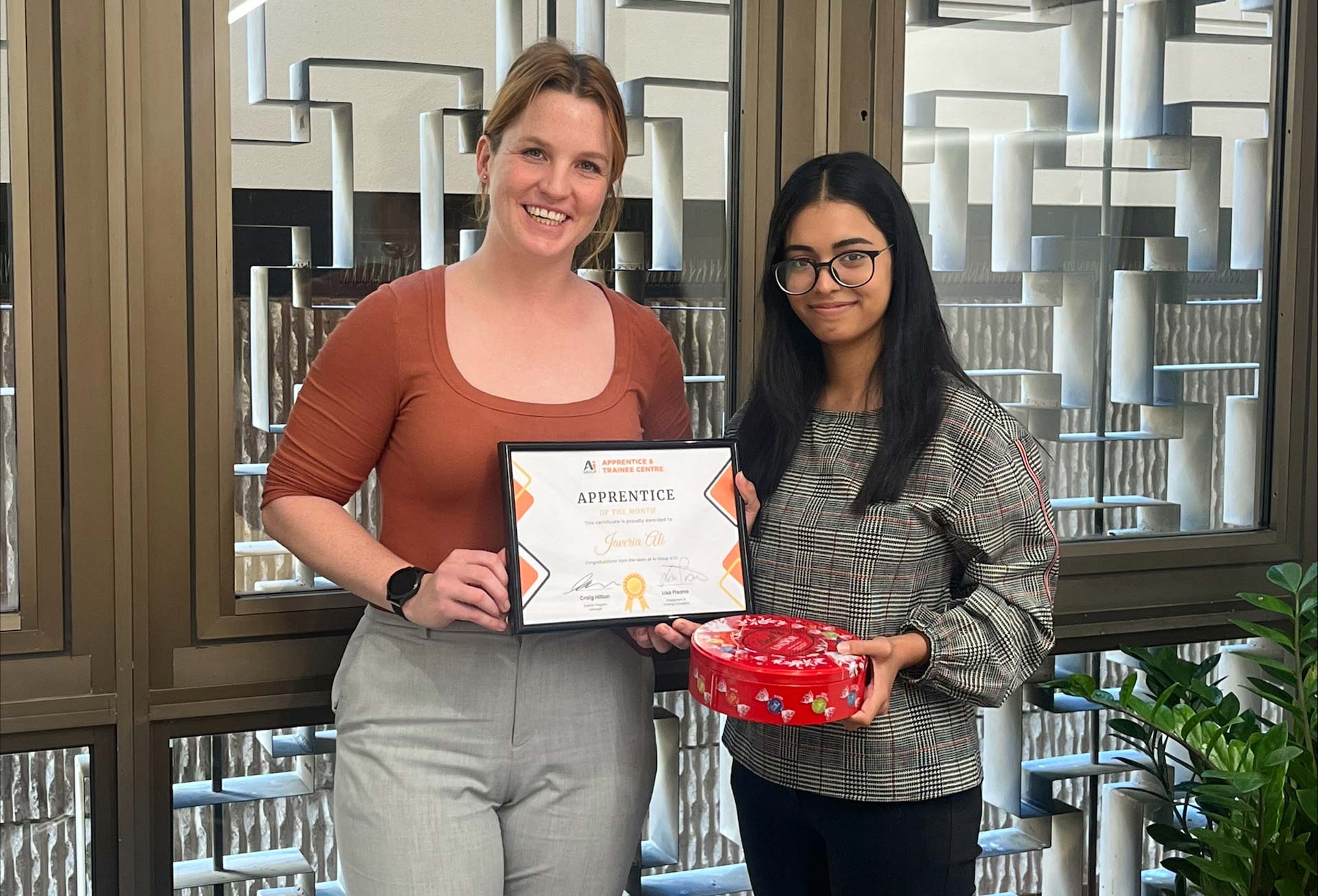 Apprentice of the Month: September 2023
Our Apprentice of the Month for September is Javeria Ali!!
Javeria embarked on her apprenticeship journey as part of the South Australian Digital Technologies Industry 4.0 Program in 2019.

Her story is one of determination and resilience. She joined the Ai Group Apprentice & Trainee Centre (Ai Group ATC) team straight out of school, eager to embrace the opportunities of the Digital Technologies Industry 4.0 Program . However, her journey took an unexpected turn when she found herself stranded in India owing to COVID restrictions. This setback could have derailed her progress, but her determination shone through. She displayed incredible tenacity and enrolled in an engineering qualification while overseas, showcasing unwavering commitment to her personal and professional growth.

Javeria's dedication extends to her daily commute; she endures a 45-minute journey each way into the city on public transport. Her hard work, intelligence and unwavering focus are evident in her willingness to go the extra mile, quite literally, to achieve her goals.

Javeria has become an invaluable asset to her host company, Arup. She eagerly embraces new tasks, adapts swiftly to her learning environment and consistently delivers her work efficiently and with a positive attitude. Her ability to tackle challenges head-on and excel in her responsibilities has not gone unnoticed by her supervisor, Alex (pictured, left, with Javeria).

As we celebrate Javeria as our September Apprentice of the Month, we acknowledge not only her remarkable achievements but also her potential for continued success beyond the completion of her traineeship in January.

We anticipate a bright future for this extraordinary young woman.
Congratulations Javeria on being recognised as our September Apprentice of the Month!
Our Host
Arup is a global organisation of world-leading design engineers that strives to develop a truly sustainable built environment.
It has been a valued collaborator in the development of the Digital Technologies Industry 4.0 Program and remains enthusiastic in providing opportunities for trainees to gain valuable workplace experience. Working with the South Australian training provider, Skills Lab, Arup is training apprentices like Javeria to embrace technologies of the future.
We look forward to continuing this excellent partnership and thank the Arup Global team for continuing to support our apprentices.