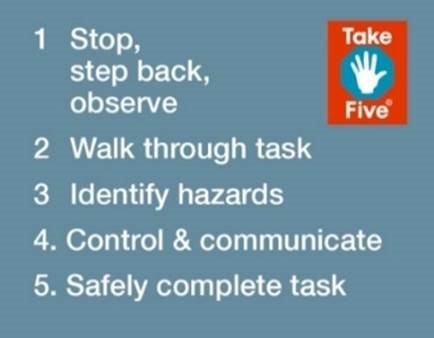 Safety Message – Ai Group Apprentice & Trainee Centre
Safety message from the Ai Group ATC WHS team.
We have recently experienced a spike in injuries.  So please ensure you think about every task and use the "Take 5" approach.
If you do have any safety concerns, please contact us immediately on the numbers below.
Do it the safe way and go home every day.
 1- STOP, STEP BACK AND OBSERVE
Before you start the task, you should take time to look around the area you are working in, and have an awareness about your environment.
2- WALK THROUGH THE TASK
Think about the task, what tools and equipment you need, have a plan.
3- IDENTIFY HAZARDS
Identify the hazards associated with the task, think about what could go wrong, and what could hurt you and others in the workplace.
4- CONTROL & COMMUNICATE
Control the hazards that you have identified to reduce or eliminate the risk of incident or injury.
5- SAFELY COMPLETE THE TASK
Follow the plan you have prepared for completing the task. If you have to change the plan, start back from step 1 to ensure your safety.
Ren Trinchera
WHS Safety Manager
M: 0449 676 752
E: Ren.Trinchera@aigroup.com.au