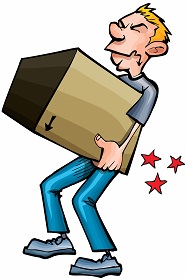 Safety Newsletter – Issue 2 July 2019- Manual Handling
Safety is something that happens between your ears, not something you hold in your hands.
What is manual handling?
Manual handling covers a wide range of activities including: lifting, pushing, pulling, holding, restraining, and carrying. It includes repetitive tasks such as packing, typing, assembling, cleaning and sorting, using hand-tools, operating machinery and equipment.
Risk Factors can include:
How often you perform the manual handling task;
Whether bending, twisting or reaching is involved;
The weight of the object;
How far you must carry the load;
The layout and condition of the workplace;
Your skill and experience;
Mechanical aids; and/or
The nature and size of the object.
Follow our tips for good manual handling techniques and avoid a nasty strain injury.
LIFTING
Squat to Lift or Lower
Keep Weight Close to the Body
Keep Your Feet Apart
Turn with Your Feet
CARRYING
Keep Weight Close to the Body
Carry Using Diagonal Ends of the Object
Grip with the Whole Hand
HANDLING LARGE, BULKY OR AWKWARD ITEMS
Repackage the item for easier handling
Use a mechanical aid to lift, lower or move the item
Use a team lift of 2 or more people
Remember!
Most jobs involve some form of manual handling, and it can be done safely.
 Injuries can occur suddenly or over a long period of time.