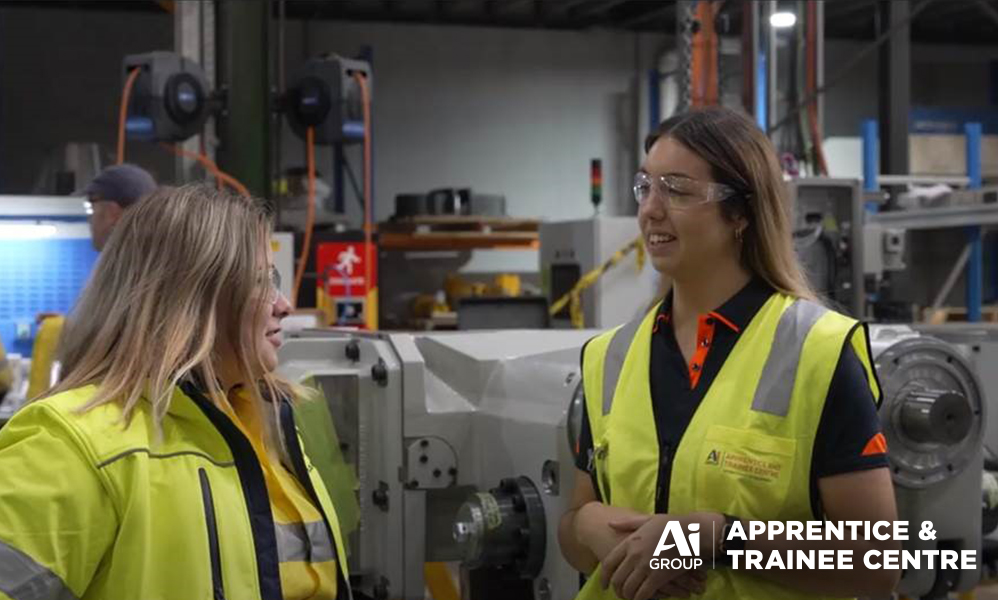 Helping apprentices is 'the best job ever'
Being an Employment Training Consultant (ETC) is the most rewarding job that Stephanie O'Neill has ever had.
Stephanie, who applied for and won the role within the Ai Group Apprentice and Trainee Centre (ATC) six months ago, said she knew she was making a difference every day by helping apprentices navigate their learning-on-the-job journeys.
"There's a lot of variety in what we do," she said.
"Essentially, we make sure apprentices are on track with everything they need to be doing and that they're happy with their employment and getting the most out of their experiences.
"It's being that middleman to facilitate the apprentice coming on board and getting them to the end of their apprenticeship."
The job involves recruitment, wellbeing visits and liaising with apprentices, their parents, host companies and TAFEs.
Stephanie, pictured above right, said she enjoyed the social aspect of the job.
"I love getting out there on the road and meeting the apprentices and supervisors and having a chat with them and seeing how everything is going," she said.
"You get to meet a lot of people within the host companies and form good relationships with them."
Becoming an ETC was a role Stephanie stumbled upon — and she's glad she did.
She had been working as a payroll and finance officer at the Ai Group ATC — a role she earned after completing her finance traineeship there — and was increasingly intrigued by what her ETC colleagues were doing.
"The role of the ETC has always fascinated me," Stephanie, a 2017 Ai Group ATC Trainee of the Month, said.
"Coming into the organisation, I had no idea what the role was or what it involved, but when I talked to my colleagues about what they did, I thought it sounded great.
"Initially, I was worried that I wouldn't be taken seriously because I'm the same age as many of the apprentices. I thought the supervisors might say: 'You're a bit young, what do you know?'"
But her fears were unfounded and instead, Stephanie has found her relative youth an asset.
"Sometimes, the apprentices might open up and talk to me a bit more because I'm younger and can relate to them," she said.
"Coming through the Ai Group ATC myself, as a trainee, I can relate to what they are going through. My personal experience definitely helps in building rapport, especially if they're having issues with certain things and I can share my stories.
"And the supervisors trust me, which is great. That helps a lot."
Placing an apprentice is always a thrill.
"Any time that I get a new one on board makes me feel great because you go through many stages to get to that point," Stephanie said.
"There's the interview process, there might be some testing and then they have to pass a medical. So, when you actually place them after they have been accepted and you go out and visit them on their first day and see how nervous and excited they are, it feels fantastic.
"A lot of them are young and may not have ever been in a big workshop with all the machinery, so it's always a good feeling to visit them on their first day.
"Conversely, it can be disappointing if a placement doesn't work out because you spend time forming that relationship. It's all a journey."
An ETC needs to be organised and have excellent timekeeping and communication skills.
"You go out and do six-weekly visits with apprentices and hosts," Stephanie said.
"You may have to book TAFE courses and interviews. You need to schedule appointments and work effectively around those meetings.
"You need to listen to what the apprentice needs — whether that's ordering them new boots or helping them with TAFE — and be responsive to that.
"Notice if they are struggling in any way and say: 'Are you OK? Is there anything you want to talk about?'"
Prior experience is not essential for the role, but it does help, Stephanie says.
"Obviously, I did complete a traineeship, in business," she said.
"That has helped me to be able to relate to them and what they are going through. But, in terms of having the knowledge of a trade, I don't think you necessarily have to. Any knowledge does help, of course, whether it's because you've been through a certain trade, or maybe you were a TAFE teacher or worked in a GTO (Group Training Organisation) before — but you learn a lot on the job.
"I have been with the Ai Group ATC for more than five years and had a vague idea of what an ETC does, but I never understood the full scope of it until I moved across."
It's a move Stephanie is delighted she made.
"I love every aspect of it," she said.
"I'm a big advocate of the Ai Group ATC. I love the idea of what we do. I love giving opportunities to young people. Some are older, in their 30s and 40s, and have been out of work for a while or want to change careers, so being able to give them a kickstart in their new journey is fulfilling, too.
"What we're doing – putting people in jobs and helping them every step of the way — is really rewarding.
"To me, doing a traineeship or apprenticeship is the best way to launch a career. You're better off getting that experience and training qualification while you're working and forming strong relationships along the way.
"As an ETC, there's never a boring day. Everyone has been so welcoming. It's been a great journey for me and a lot more rewarding than anything I've done before."